Major step forward on plans for Aldridge station
Friday 16 June, 2023
A £30 million project to restore rail services to Aldridge for the first time in almost 60 years have taken a major step forward after securing Government backing.
The Department for Transport has given conditional approval to start work on an outline business case to build and open a station on the Sutton Park line to provide direct passenger services to Walsall.
This means that funding can now be drawn down to take the project, which is being led by Transport for West Midlands (TfWM) and the West Midlands Rail Executive (WMRE), to the next more detailed design, and development phase.
TfWM, which is part of the West Midlands Combined Authority (WMCA), is funding the development from its £1.3 billion City Region Sustainable Transport Settlement.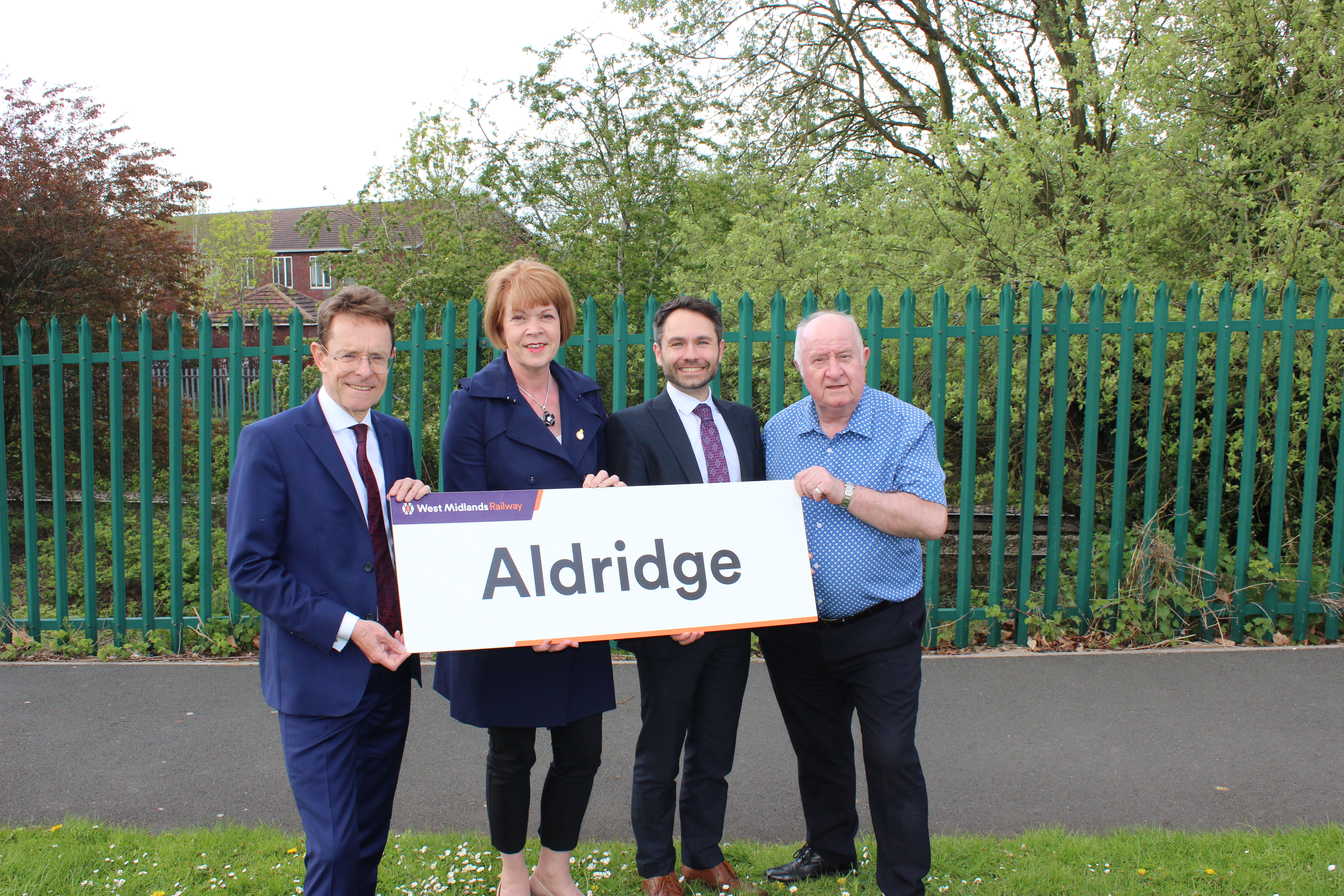 The town sits on the freight only Sutton Park Line between Walsall and east Birmingham which closed to passenger services as part of the Beeching cuts in 1965.
The proposal is for a single platform station to be built on the edge of Aldridge Town Centre, with road access from Westfield Drive.
Andy Street, Mayor of the West Midlands, said: "With diggers already in the ground working on three new stations on the Camp Hill line alongside Darlaston and Willenhall stations on the Walsall to Wolverhampton line, Aldridge will be a very welcome sixth addition to our region.
"This is another step forward as we rebuild and reopen many of the railway stations closed by the Beeching cuts of the past - all part of our plans to better connect communities and give local people a genuine alternative to the car.
"We remain steadfast in our commitment to public transport and so we will continue to seek to revive even more stations and passenger services in the months and years ahead."
Current plans are that the station will initially be served by a half-hourly diesel shuttle service to Walsall taking just six minutes. At Walsall there will be cross-platform interchange with electric services to and from Birmingham giving an overall Aldridge to Birmingham journey time of around 38 minutes.
TfWM and WMRE will be actively exploring ways of delivering future electric through services to Aldridge with Network Rail and other partners.
Cllr Mike Bird, WMCA portfolio lead for transport and leader of Walsall Council, said: "Having its own station will provide a huge benefit for the residents of Aldridge giving them easier access to jobs, leisure and education opportunities further afield.
"It will also improve access for workers and visitors to Aldridge's town centre and industrial parks giving  much needed support to local businesses."
Neil Gaskin, programme director for Network Rail's Central route, said: "Together with Transport for West Midlands, we are excited to be working towards reconnecting Aldridge to the passenger rail network once again. The railway brings many social, economic and environmental benefits and this station would be a major boost for the town and surrounding area."
Contact the Media Team