Building a 'flat-packed' station
Thursday 07 October, 2021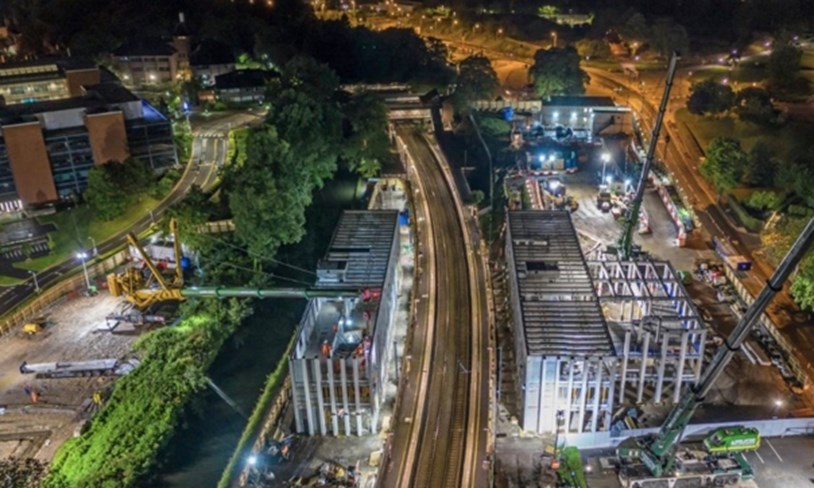 What does a bookshelf, a wardrobe and a railway station have in common? They can all come flat-packed.
The 'flat-pack' for University station is a bit bigger than it would be for your household furniture. It is 480 tonnes and is being delivered to the construction site on 40 trailers. The concrete pieces and are being put together using cranes that can lift 500 tonnes of material.
Over the last few months, our Principal Contractor, VolkerFitzpatrick, have installed 1500 square metres of concrete columns, beams and wall sections. These elements come together to form the outer shell of the new buildings. The buildings are supported by foundations made up of 403 concrete columns under the ground.
Passengers will be able to access the main station building from Vincent Drive. It will greatly increase capacity making journeys more comfortable and safer. There will also be new facilities including toilets, seating, shops and refreshments.
The second building is being built between the railway line and the canal. This makes it challenging to build as some materials and machinery are being lifted over using a crane. This can be only done overnight or due in scheduled closures to keep the public and workers safe.
In the coming weeks and months, the team will be continuing their work on the station. This includes installing a canal bridge between the station and the nearby University of Birmingham campus.
Once complete, this 'flat-pack' railway station will make it easier to access to some of Birmingham's world-leading institutions. It will better connect people to education, healthcare, jobs and recreation.
Contact the Media Team